Alfonso Davidovich Ochoa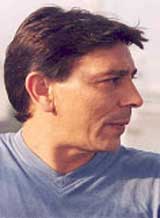 Alfonso Davidovich Ochoa. Photo courtesy Pravda-info
From the dossier compiled by burtsev.ru
1.The first reference to Alfonso Davidovich occurs in the articles on the "conspiracy in Cote d'Azur," published in of 1999-2000 in Russian. The first article was published by the tabloid Versiya on August 3, 1999. According to the article, signed by Andrei Batumskii, the information came from French intelligence and a French professor,"a well-known political scientist, specialist on Russian defense, security and organized crime. He is well-known by the work he contracts from French government, including French counterintelligence."
In the second article of July 4, 2000, Versiya added to its sources "Israeli intelligence."
According to this information--it was clarified in the second Versiya article a year later--"a Venezuelan banker Alfonso Davidovich settled at Adnan Hashoggi's villa in Boulier in June 1999, together with his young black female secretary. In Latin American press, he is said to be responsible for laundering the funds of the Columbian left insurrection organization FARC, which carries out an armed struggle with the official authorities, supported by the narcotics business."
2.The above information about Davidovich was quoted by John Dunlop in "Storm in Moscow" (October 2004, http://www.sais-jhu.edu/programs/res/papers/Dunlop paper.pdf). To this Dunlop adds a bit of new information from the so-called Yasenev's memo at compromat.ru, that was published only two months after Dunlop's essay (?!). Dunlop's footnote says: "The article 'Rossiyu zhdet oranzhevaya revolytsiya,' compormat.ru, 17 December 2004 reports that Davidovich lives in Munich and enjoys both German and Venezuelan citizenship. He is also said to be personally acquainted with international arms dealer Khashoggi." 1
Note: In Versiya's and Dunlop's articles, Davidovich's last name Ochoa is not mentioned. Armen Sarkisian observed that the first time the surname "Ochoa" was added to "Alfonso Davidovich" in the Pravda.info announcement of May 3, 2005 about the meeting of the board of directors of Far West, Ltd. That took place in hotel Ritz Carlton in Dubai on May 2. At this meeting FWL and Pravda.info "exchanged assets" (whatever it means) and "the Venezuelan political scientists Alfonso Davidovich Ochoa" was mentioned as the member of the FWL board of directors and the editorial board of Pravda.info. His photo was attached to this announcement.
3.According to Armen Sarkisian, he saw a few "neutral" references to Davidovich and Lybia on German sites several years ago, then they disappeared from the Web.
4.Information on Davidovich in the documents published at compromat.ru in 2003-04.
Alfonso Davidovich Ochoa, b. 1948. Venezuelan. His grandfather was from Kiev. Has German and Venezuelan citizenship. For the last 10 years resides in Munich. Owns banks and companies in the Barbados, the Caymans, and other offshores. It was said that in 1999 Davidovich was accused in press of smuggling arms to Zapatistas and money laundering for Colombian mafia. Finances anti-globalization movement.
In 1977 he went through special training in the GRU school in Privolnoe (Nikolaevskaya oblast') USSR, and in East Germany. Has friendly relations with Hugo Chavez, and is acquainted with Fidel Castro, Marcus Wolf and Adnan Hashoggi. Has many contacts in Colombia, including FARC.
5. Latest Information about Alfonso Davidovich Ochoa
According to one anonymous source, Davidovich manages 30% of Far West, Ltd voting stock which belongs to «Petroleos de Venezuela S.A.» (Venezuela). 2
From "Conversations with Armen"
"In 1977 he [Davidovich] came to USSR in a group of six Cubans. He had a passport in the name of Jose Rodriguez, Captain of the Cuban Army. From 1981 to 1988 he visited the SU four times: three times as Jose Alva, Colombian citizen, one as Cuban Jose Rodriguez. That last time he accompanied General Arnaldo Ochoa. From 1995 to 2005 he visited Russia six times under his real name in his German passport."
[The FARC connection strongly bothered us and I told Armen about this. Here is his answer.]
"The information about FARC participating in the OPS business has been confirmed. 3 Let's not idealize this organization. There are different people in FARC and they have problems with financing. Also recall the trial of the Cuban generals Francisco [sic] Ochoa and De La Guardia. Ten or fifteen years ago they were sentenced by a Cuban court and executed for smuggling cocaine from Colombia to the US through Cuba. (There was much information about this trial, including in the official Cuban press. Fidel Castro talk about that). Another matter, that the US, while accusing FARC of protecting narcobusiness, does not say anything about the ultra-right death squadrons, the police and the Colombian army whose share in narcotrafficking is much bigger than FARC's.
I spoke to man who knows Latin American problems and the real reasons for Filin's stay in Colombia in 1988-90 on Gusev's orders. 4 This is what he told me. Since the 1970s Gusev was acquainted with the Cuban General Arnaldo Ochoa. They met in Angola and Ethiopia. When in 1988-89 Fidel Castro decided to liquidate the Ochoa–de la Guardia "business," their men in Colombia, together with their contacts within FARC, began to restructure narcotraffic. Ochoa, at that time not yet under arrest, asked General Gusev for technical assistance. Filin's trip was related to this, though overtly he went to Colombia on a different assignment. It was at this time that Filin got acquainted with Davidovich (Alfonso Davidovich Ochoa) who served as a liaisonin the triangle: Arnaldo Ochoa—his agents in FARC—Pablo Escobar and the brothers Ochoa (namesakes of the general and Davidovich) from the Medellin Cartel.
In addition, Davidovich always had direct access to Gusev since he had gone through training in the USSR. My interlocutor told me that some of Arnaldo Ochoa's men have continued in the Colombian guerrilla organizations until the present day and formed the basis for the Colombian scheme of the OPS." 5
Armen continues on Davidovich and FARC in another message:
"One of my acquaintances saw the information on the Ochoa--La Guardia affair that Castro sent to the Soviets. According to this information, the organized criminal society was formed by Ochoa and La Guardia in the early 1980s and included elements from the Cuban army and secret services. Some of them were in Colombia, in FARC. Arnaldo Ochoa ordered them to organize a channel for cocaine traffic to the United States. His agents and their Colombian associates (or agents) made an agreement with Medellin cartel to ship cocaine to Cuba by sea or air. From Cuba, Ochoa and La Guardia shipped this cocaine to the United States, either to Miami, where Ochoa had his agents in the emigre community, or to Nicaragua (where Ochoa also had his men) and then through Honduras by air to the States. According to Castro's information, for this operation Arnaldo Ochoa and La Guardia established "business" contacts with the CIA agents. After the trial in Havana, Castro attempted to recall Ochoa's men in FARC, Miami, and Nicaragua in order to put them on trial. But they disobeyed and went out of the Cuban command. This was the reason that Castro gave to the Soviet leadership for his drastic cuts in the Cuban financing of FARC. According to my acquaintance, it was then that FARC went to "self-financing."
Davidovich finances anti-globalization movement. (!?)
Vadim: I just don't understand: What for Davidovich would support antiglobalist movement and in such a way that nobody knows about that?
Armen: Ask yourself: Why Davidovich supports "antiglobalist" Kagarlitsky? I am not a specialist in world antiglobalism, but I suppose that those whom he supports are "antiglobalists" of the same sort as Kagarlitsky. This is called "hostile penetration" with the goal of taking control.
On IPROG and Venezuela. 6
Armen wrote:
"At Surikov's request, Davidovich helped Kagarlitsky and Glinchikova to infiltrate Hugo Chavez's circle. Perhaps they got acquainted with Chavez's assistants on their own, but it was Davidovich who recommended that Venezuelans work closely with IPROG. That included Chavez's appearance at the meeting organized by Kagarlitsky during Chavez's visit in Moscow. The Russians, through their diplomatic channels, tried to dissuade the Venezuelans from this meeting. But [Davidovich's] lobbying was so strong that it almost came to a scandal."
Vadim: "Is that so? I recently heard rumors that there were plans to assassinate Chavez. Could Glinchikova by chance be involved in this :)) Anyway I hope Chavez's security service knows about Surikov's US connections. Troubles of this kind can come from unexpected directions."
"From the very beginning, the OPS was intended for profitable criminal activities. Money is all for them . As to politics, it is used to help their business. Look at these two articles from the vantage point of their 'commercial interest.' Surikov's 'The Real President' was published in December 2004, when the preparations for the Russian-Venezuelan deal sell Kalashnikov rifles was close to completion. The middleman was Davidovich. The amount of the deal - $40-50 million. Clearly, the OPS was very interested to get in favor with Chavez at that time. One way to achieve this is to praise him in press. According to our information, right after 'The Real President' was published Surikov told Kagarlitsky to get it translated and take to Venezuelan Embassy. Afterwards, when Kagarlitsly with Glinchikova went to Caracas he took the translation with him and showed it to Chavez' advisers. In other words, the addressee of Surikov's article was the Venezuelans, rather than our leftists about whom Surikov does not give a damn (that was before his "Kasianov" project)."
On Davidovich's functions within the OPS
Armen: "Davidovich is responsible for FWL representation in Colombia, they have office in Bogotá. He is also responsible for Venezuela. OPS needs Venezuela for trafficking."
"The distribution of responsibilities in the OPS as follows. Filin, partly Likhvintsev, Davidovich, and Kosman, the four of them are at the top and excersize general leadership. Filin is responsible for the headquarters of Far West, Ltd. in Switzerland. Filin and Davidovich are responsible for purchasing cocaine in Colombia and the FLW office in Bogotá.Likhvintsev is responsible for cocaine traffic through the port of St. Petersburg and its delivery to the Azeris. Saidov is in contact with Jamaat Shariat and is responsible for purchasing Afghan heroin coming through Turkmenistan to Dagestan. He is also responsible for the port of Novorossiisk and the FWL office in the Crimea. Surikov is responsible for contacts with Hizb-ut-Tahrir in Udmurtia, Tatarstan and Bashkiria, as well as for purchasing there the Afghan heroin that comes through Tajikistan and Uzbekistan. He is also responsible for the FWL office in Izhevsk 7 and for shipping of "special merchandise" (i.e.,. heroin - burtsev.ru) to the port of Novorossiisk (for this he uses the Adygei ethnic criminal group). Kosman is responsible for the transfer of the heroine, delivered to Europe from the Novorossiisk, to Kosovo Albanians in Mediterranean and for the FWL office in Kosovo. Filin, Kosman, and Davidovich are responsible for financial transactions related to drug trafficking and for laundering the proceeds in Caribbean offshores. Saidov is responsible for financial transactions and money laundering in the Gulf and for the FLW office in Dubai. Filin and Likhvintsev are in communication with their accomplices in their former directorate (GRU - burtsev.ru). Likhvintsev is in contact with their "protection" at "the top" (in the Kremlin - burtsev.ru). Butkevichius supervises the FWL office in Georgia and is responsible for the OPS communication with Berezovsky and Patarkatsishvili. Surikov is responsible for receiving intelligence from the corrupted officers of secret services about the information which these services gather about the OPS and their competitors. Surikov (and Baranov) is also responsible for politics, informational campaigns in mass media (presently Filin, Saidov, and Roeva also take part in these activities) and for communication with YUKOS (through Kondaurov). Lunev is responsible for physical actions against their opponents. He is also responsible for the FWL offices in Iraq and Afghanistan and for their business there with KBR/Halliburton (formerly headed by Dick Cheney), hiring for them mercenaries. They closed their office in Angola. Before, Likvintsev was responsible for it. Filin and Surikov are responsible for their connections in the United States, Davidovich with Venezuela, Saidov with Saudi Arabia, Saidov and Surikov with Turkey, Saidov with the Chechens and Hizb ut-Tahrir in Central Asia."
On Davidovich and Russian Arms Sale to Venezuela
From Zurab Sikharulidze 8 :
Ochoa visited Izhevsk [where the Kalashnikovs are made] in connection with the sale of 100,000 Kalashnikovs AK-130 for $40 million. The manufacturer is the Izhevsk factory Izhmash.
He was accompanied by Vladimir Filin, Alexei Likhvintsev and Anton Surikov. Surikov comes to our city often, because he oversees the office of Far West Ltd. In Udmurtia,Tatarstan, and Bashkiria (Natalia Roeva is in charge of this office).
Armen's last Message
Final Information
From Armen, 21:25:50 17/07/2005
For the time being this is the last communication from us.
1. Fritz Ermarth is indeed the most important contact of the OPS in the United States. 9
2. According to our source who knows the situation with the foreign assets of the OPS, in 2000 up to 90 percent of their assets were in Europe (Switzerland, Luxembourg, England, and France) and in offshores - former British colonies in the Western hemisphere.
Recently (apparently being afraid of having problems in the West, what Filin and Surikov have been writing about lately) the OPS had transfered up to two thirds of their assets to the Gulf (Dubai, Bahrain, Qatar, Saudi Arabia). Another 20 percent has been moved to South America (Brazil, Ecuador, Colombia, Venezuela), Turkey and Ukraine. Only less than 15 percent of all their assets still remain in England, Switzerland and Caribbean offshores. They have moved everything from France and Luxembourg.In the United States and Russia they never had any serious assets. 10
One can judge from this information on what external powers (besides the United States) they depend.
3.Audrius Butkevichius was a military adviser to the late Laurent Kabila, when he was coming to power in the late 1990s in Zaire-Congo.
On this we temporarily stop our communication with you. We are waiting for your publications and wish you success.
Armen and Zurab
Примечания
1 On Dunlop's suppression of the explosive contents of Yasenev's Memo, see Peter Dale Scott, "The Global Drug Meta-Group: Drugs, Managed Violence, and the Russian 9/11" <http://www.lobster-magazine.co.uk/articles/global-drug.htm>
2 "Swiss: Oфис "Far West Ltd" в Швейцарии закрыт" <http://left.ru/burtsev/ops/sanitarlesa.phtml>
3 OPS - Russian abbreviation for Organized Criminal Society.
4 Vladimir Ilyich Filin (b. 1959)-- Russian military oligarch, the "Head of the Board of Directors" of Far West, LLC (formerly Far West ,Ltd) allegedly the leader of the international criminal society, formed by a group of former officers and agents of the Main Intelligence Directorate of the Soviet General Staff (GRU) in the early 1990s. More on this society, see Peter Dale Scott, "The Global Drug Meta-Group: Drugs, Managed Violence, and the Russian 9/11" <http://www.lobster-magazine.co.uk/articles/global-drug.htm>
5 General Yuri Gusev was the second in command in GRU. He was the "godfather" of OPS, died in 1992 in a strange car accident in Moscow. Vladimir Filin, the brain of the OPS and the president of FWL, took over after Gusev's death. It was Filin with who Armen and Zurab talked in Switzerland.
6 IPROG -- Institute for Globalization Studies (Moscow), established by Mikhail Deliagin, Mikhail Kasianov's associate, in 2000. Since 2002 its director is Boris Kagarlitsky, well-known in the West as leftist. According to some sources, IPROG has been financed by Berezovsky, YUKOS, and Far West, Ltd. Three directors and owners of FWL, Vladimir Filin, Ruslan Saidov, and Anton Surikov, are listed at the IPROG masthead as "experts," "historians," and "senior researchers."
7 Izhevsk -- the capital city of Udmurtia and the site of Izhmash, one of the biggest arm manufacturer in Russia. One of the strongholds of the OPS.
8 Zurab Sikharulidze, officer in Armen's unit, assigned to investigate the activities of Far West, Ltd. in Udmurtia, where it is said to be involved in drug trafficking, arms smuggling, and organizing underground cells of the extremist Islamic organization Hizb ut-Tahrir. Apparently was stationed in the city of Izhevsk. Together with another officer of their unit, Mikhail Konovalov, was fired from the service and blacklisted in August 2006 after the murder of Armen Sarkisian.
9 Fritz Ermarth - a "nuclear whiz kid" and a master of intelligence con game has been an influential figure in the US intelligence community for the last 20-25 years. Served in the CIA, NSC, and NIC. Officially retired in 1998. Said to have 5 percent of voting stock in Far West, Ltd. Long-time associate of Anton Surikov.
10 This information has been recently confirmed by Vladimir Filin, who announced the withdrawl of FWL from Europe, citing the fear of criminal persecution by US law enforcement for the alleged participation of FWL in the illegal sale of X-55 cruise missiles to Iran and China in 2001. See: "The CIA and Israeli Intelligence Conduct Big Operation." By Vladimir Filin < http://forum.msk.ru/material/fpolitic/7221.html >